FPA of Hampton Roads & Hampton Roads Estate Planning Council
Joint Summer Social
Wednesday, July 11, 2018
5:00 PM to 7:00 PM
Blue Moon Taphouse
Waterside District

Join us for a terrific opportunity to network and develop meaningful contacts with other allied professionals in the Hampton Roads area.
Appetizers provided; Cash Bar

Please RSVP to Jan Dungan, Executive Director, FPA by 5 pm Friday, July 6th admin@fpahr.com

From the President
As the Hampton Roads Estate Planning Council begins its 46th year, I want to welcome all of our members to what we know will be another successful year fulfilling our mission to provide quality estate planning education to its members in all facets of estate planning. The board also plans to expand on its previous endeavors to network with other professional groups.
We plan to continue the tradition of providing diverse and engaging speakers who will provide knowledgeable information in their area of expertise. This will also give our members an opportunity to network and ultimately forge a strong base of available resources. Networking, along with continuing education and sound council leadership will help the Hampton Roads Estate Planning Council continue to grow.
In the 2017/2018 calendar year we hope that through the sponsorship of a cocktail hour or dinner meeting, placing ads in our directory and encouraging qualified members of your firm to join us, we will have continued growth leading to another successful year. I encourage all of you to share your recommendations with the board on how to strengthen and improve our Council.
I look forward to seeing each of you at our meetings and your continued participation in our Council.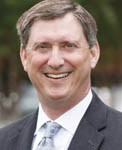 Sincerely,
Todd J. Preti, J.D., AEP®
2017/2018 President