From the President
I would like to welcome all of the membership of the Hampton Roads Estate Planning Council back for another year. We are entering into our 45th year of providing education and learning opportunities for the various disciplines within our membership as our mission dictates. I also think it is just as important that we provide opportunities to network with one another and create friendships that will last for many years to come.
One of my first experiences with the HREPC was when the group met on Bonney road, and the board of directors had to sit at the "head table." I am pleased those days are over, and we as your board have the opportunity to spend our time with you and hear how we are doing. We appreciate the feedback and we are always looking for volunteers that are willing to offer their time to serve on the board.
I hope you are looking forward to another great year. Our success is due to your willingness to sponsor cocktail hour and our dinner meetings, as well as placing ads in our directory. Please continue to join us for each of our programs, and to support our growth in any way you can.
I look forward to seeing you all.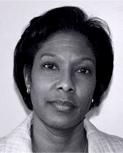 Sincerely,
Mavis McKenley, AEP®, CTFA
2016/2017 President